Residential Shredding in DC
Identity theft has been on the rise in DC for years. It's common for people carelessly throw away private documents at home without shredding them, and then wonder why they've become victims of identity theft. Bank statements, medical records, and credit card information are often thrown away at home, so thieves know to target your trash and will dumpster dive to obtain your information. For this reason, document shredding is important.
Everyone gets stuck with old paperwork that they don't want to keep, but they don't want to just throw away. Several years worth of documents can add up to be quite a project for a home shredder.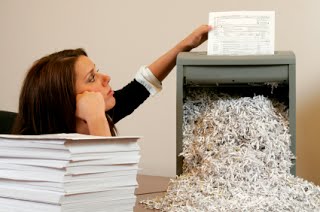 There are plenty of ways to dispose of your paperwork in DC, but why stress yourself out over the daunting task of shredding when someone else can do it for you? Here at Washington DC Paper Shredding, we offer shredding service solutions to help any size project you may have in your area.
Our Washington DC contractors make sure to handle your documents as carefully as you would as to make sure you feel comfortable about the process. We offer mobile shredding service options, where our partners come to your curbside and shred everything for you so that you can physically watch everything getting destroyed for your peace of mind. Once everything is destroyed you get a Certification of Destruction and then shredders proceed to recycle all of the scraps.
Recycling the old paperwork actually gives more security than just shredding everything. One of the first steps in the recycling process is to throw everything into a vat of chemicals which separate all of the ink from the paperwork. This ensures everything on your documents can never be recovered.
Washington DC Paper Shredding Can Help Protect You From Criminals!
Take the first step in securing sensitive information by enlisting in a shredding service provider. Washington DC Paper Shredding respects the importance of your privacy and security and works with only the most secure service providers to ensure your safety.
Protecting yourself has never been easier — simply fill out the form to the left or give us a call at (202) 552-1525 today!