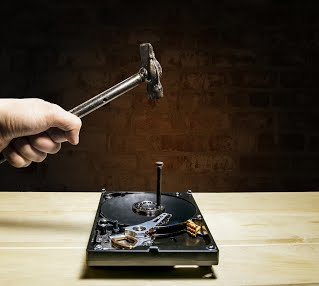 It's not just physical paper that contains sensitive information—hard drives contain plenty of private files. More and more businesses and homes in Washington DC store their sensitive data digitally on computers or other electronic media devices.
Hard drive destruction ensures the complete protection of all electronic data. Today, society is continuing to shift to an online platform. Therefore, it is critical to know the importance of hard drive shredding. Over the year, valuable and confidential information was stored on the drive. Without proper destruction, the data can still be recovered.
There are mainly three reasons why hard drive shredding is a better solution.
Security: there is a focus on keeping data secure through the whole process. The process complies with regulations, such as HIPAA, and maintaining clear form of confidentiality.
Time Efficiency: the process focuses on your needs, so you can drop off your hard drives or, depending on local providers, simply have someone come pick them up.
Cost: The entire process is easy and affordable. Most hard drive shredding services cost about $4-$12 per drive. The cost incurred go towards completely covering electronic assets.
In order to remain compliant with privacy laws including HIPAA. Just deleting files is not sufficient to destroy the information, as is easily recovered with free software.
Keep an eye out for hidden hard drives in your home and office.
Hard drives are hidden all around your home and office in many of the electronic devices that you use, simply because many of these devices need a hard drive in order to operate.
That means that any file you've ever sent to any of these devices has saved a copy of it on its hard drive. Commonly overlooked are scanners, fax machines, and printers.
Other electronics that contain hard drives include:
Fax machines, scanners, copiers, and printers
Biomedical devices
Mobile devices like cell phones, smart phones, PDAs, tablets and laptops
Legacy magnetic media like floppy drives, zip disks and magnetic tapes
PC hard drives
Optical media, including CDs and DVDs
USB removable media such as pen drives, thumb drives, flash drives and sticks
Memory cards
Embedded flash on boards and devices
RAM and ROM-based storage devices
To be sure the information is destroyed there is no better way than to physically destroy the hard drive. Washington DC Paper Shredding offers hard drive destruction options that can be done at your DC location or at a secure plant. Our contractors melt down the pieces and recycle the leftovers.
If you are concerned about the electronic devices you own or lease but are unsure whether or not they contain hard drives, give us a call at (202) 552-1525. We can discuss which electronic devices in your possession may be posing a threat.
Protect Your Digital Data with Hard Drive Destruction Today!
Ensure your safety by contacting Washington DC Paper Shredding to discuss which devices you are in possession of that may pose a threat to your or your business's security. Fill out the form to the left, or give us a call at (202) 552-1525 for free quotes today!