Washington DC Paper Shredding
Washington DC Paper Shredding is dedicated to providing cost-effective shredding solutions for DC homes and businesses. We understand the importance of your information security and offer several flexible and federally compliant services to suit your needs.
About Washington DC Paper Shredding
Washington DC businesses cannot afford to handle sensitive documents containing private information improperly. Several district and federal laws enforce that sensitive documents must be destroyed prior to disposal, and neglecting to do so could have serious consequences.
The best way to destroy your documents is through the help of a professional DC shredding service provider. Washington DC Paper Shredding's network of local contractors can destroy mountains of documents in no time. They can ensure that your documents are promptly recycled and are fully compliant with local and federal laws.
Working with a shredding services provider makes feeling secure in your business and at home easier than ever before. Let Washington DC Paper Shredding help your home and business today: (202) 552-1525
Residential Shredding: Identity thieves know very well that many families often carelessly discard documents with valuable, private information at home. Not taking steps to safeguard your private information before throwing it out can put you and your family at serious risk. Learn more about how you can protect yourself with convenient, residential shredding services by clicking here.
Careless disposal of such documents at home can also put you and your family at risk, like identity theft, fraud, and blackmail that can cause serious long-term damage.
Shredding Calculator
Use our simple shredding calculator to find the service option that best meets your needs!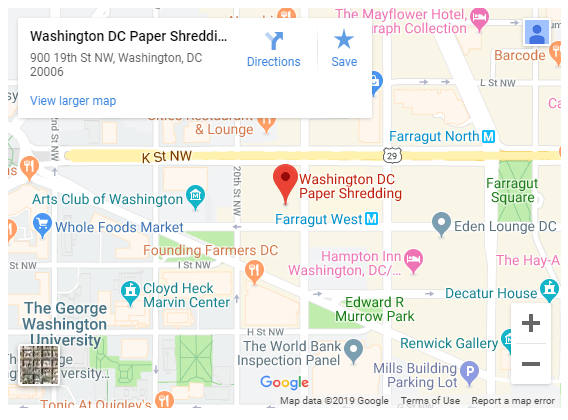 Get Free Quotes on Shredding in Washington DC
DC Shredding Services
Service Options Available in Washington
Whether you're looking for a one-time service or a regularly scheduled service, we are prepared to meet your needs. Our scheduling service options include:
One-time Purge Service: This service is great for those who only have one or occasional shredding requirements. Costs are generally based off of the volume of documents you need shredded.
Ongoing Service: This service works well for those who have weekly, monthly, or quarterly shredding requirements. Our DC contractors provide you with locked shredding bins free of charge and regularly visit your location to shred all documents in these bins.